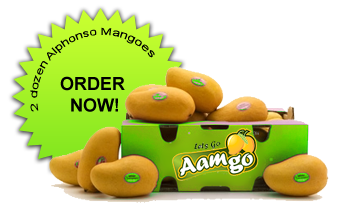 CALL (020) 2565 3093
Alphonso Mango Recipes from Mangowale.com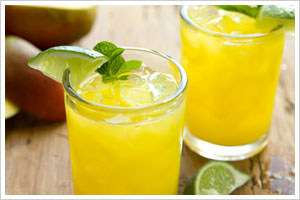 Mango Aqua Fresco
Ingredients
1 ripe mango, peeled, pitted and cut into chunks
1 1/2 cups cold water
1/2 teaspoon freshly squeezed lime juice
1/2 teaspoon agave nectar or honey, more or less to taste
Lime wedge and mint leaves for garnish
Method
In a blender, combine mango and water and blend until smooth. Pour through a strainer into ice-filled glasses. Stir in lime juice and agave. Garnish with lime and mint, and serve.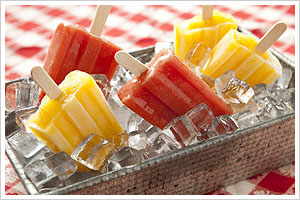 Mango - Peach Popsciles
Ingredients
1 cup puréed mango (from peeled fruit)
1 cup puréed ripe peaches (from peeled fruit)
1/4 cup water
2 tablespoons sugar
Lime or lemon juice to taste
6 to 8 popsicle sticks
Method
Combine fruit purées in a medium bowl. Heat water and sugar, stirring until sugar dissolves. Add to purées with lime or lemon juice to taste. If you have popsicle molds, fill them, leaving some room at the top to allow for expansion, set the lids in place and insert the sticks through the holes. If you don't have popsicle molds, fill small cups or empty yogurt tubs about 3/4 full, stretch plastic or foil across the top and make a small slit to insert sticks. Freeze until firmly set, 3 to 4 hours. To remove the pops, first remove the lids or wrap, then squeeze the sides of the molds, twisting them slightly, to dislodge the pop. If necessary, rinse the outside of the molds under hot water first.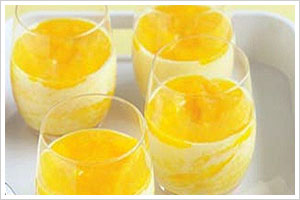 Mango Fool
Ingredients
4 mangoes, cut in cubes
1 lemon's juice
4-5 tbsp coconut cream
1 cup cream
2 cup yogurt, drain water in fine cloth
5-6 tbsp sugar
1 pinch salt
Method
In a grinder add coconut cream, cream, sugar, mango chunks,lemon juice and yogurt. Blend it until all ingredients are combined well. Pour it in glasses and chill it in refrigerator. Serve it with mango cubes and cream on top.